INTERVIEW. Matthieu Lougarre, Director of Agri Resources Madagascar, believes in the future of vanilla and its region of origin, SAVA. Provided that the quality of Madagascan vanilla is recognized and protected.
Interview by Marion Zucco

Agri Resources Madagascar is part of the Agri Resources group. Based in Antalaha, in the heart of the vanilla-producing area on the north coast of Madagascar, Agri Resources Madagascar is dedicated to the cultivation of spices and vanilla. The company manages agricultural activities at all stages of the supply chain by producing its own products which it processes and delivers to national and international markets.
The company's main strategy is to be part of a sustainable vanilla management to perpetuate the traditional methods of preparation that Madagascan vanilla is renowned for.
Marion Zucco: How does Agri Resources promote the development of sustainable vanilla production in Madagascar?
Matthieu Lougarre: Agri Resources works with farmers' cooperatives in the Antalaha area and the north of Sambava. The company collaborates with Association Inside Madagascar, an association which works with these cooperatives, offering training in new crops, strengthening agronomic techniques related to vanilla, securing production areas, and projects related to access to water, healthcare, education, etc.
In addition, since 2015 we have been acquiring land and planting organic vanilla and ensuring a certified production base to satisfy our customers' demands. It also allows us to test other crops to optimize crop quality.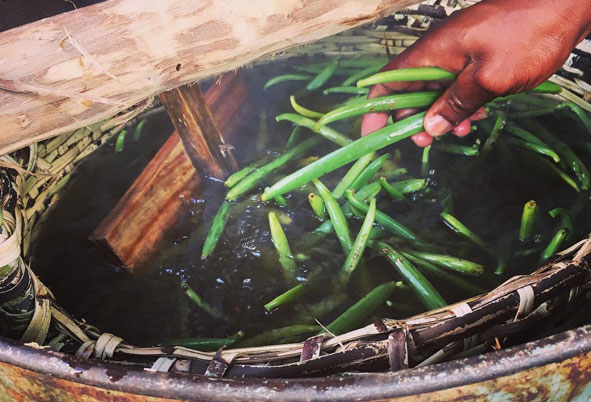 How many producers work with Agri Resources?
We are working on two waterway: the first near Antalaha combines different cooperatives with 350 farmers, and the second to the north of Sambava, has more than 1,000 farmers. It is a project in partnership with the NGO VDB (Sustainable Vanilla Bemanevika) and our client PROVA.
 What are the requirements to work with Agri Resources?
There are no special requirements to work with Agri Resources. As soon as a request from a farmer producer group is identified by our teams of facilitators, we organize meetings and help producers to group together in an association/cooperative.
Are environmental and sustainable standards in place? What advantages and constraints do these standards provide for producers?
We plan to set up a Rainforest certification in 2020 (Rainforest is an American NGO which aims to preserve biodiversity and sustainability), with our members to ensure a standard of traceability and environmental preservation.
Vanilla or not, the main problem is the human population's dependency on natural resources. There are few (or very expensive) alternatives to the use of wood for cooking, or for building houses, canoes, or fences.
When we work with groups, we raise awareness about the decreasing availability of natural resources, and reforestation with fast-growing species to meet household energy needs.
Are you afraid of the competition from synthetic vanillin?
More than synthetic vanillin, it is the legislation on product labelling that is problematic and misleading for the consumer. Many products are labelled "natural vanilla", but do not contain any vanilla. US legislation is also problematic because it allows any importer to create a volume of vanilla extract based on an imported volume of vanilla, but without taking into account the intrinsic quality of the vanilla and the vanillin content. This way, some buyers have no qualms about buying and encouraging producers/exporters to offer vanilla of poor quality, as long as the price is attractive.
If there are immature vanilla thefts today, it's because there is a market behind it and buyers who do not care about quality.
Can quality and price be conciliated?
The price frenzy of recent years has created a big mis-match between price and quality. The pressure on the market was such that quality (which is time consuming) has been lost at the expense of the quantity of vanilla that had to be available quickly. These high prices have encouraged many incompetent people to enter the sector to benefit from this windfall. From about 20 exporters in 2015, there are now more than 150 with different requirements, legal statuses, and administrative constraints.
As regards quality, the Group of Vanilla Exporters of Madagascar (GEVM) is working to ensure that harvest dates are in line with the natural vanilla cycle, so that the vanilla pods are mature and that quality can be restored and constant.
And can we conciliate environment and production?
Vanilla cultivation does not, in my opinion, have a major impact on the environment, as most farms are traditional, under forest cover. Vanilla needs natural stakes to grow, so it is rare to see areas being deforested to introduce vanilla.
How do you see the future of the industry?
It is very difficult to predict the future. My main fear is that, as in Indonesia, the market will shift to volume rather than quality and traditional know-how will be lost.
The recent price increase has enabled many other countries to develop this type of crop over the past 4 or 5 years. As a result, Indonesia, Uganda, India, to name but a few, have planted a lot.  The risk is that within 1 or 2 years, we will find ourselves with excess production, and we will be faced with consumers who will have turned away from the natural pod for synthetic or natural flavour but without vanilla.
What are your company's plans?
In the vanilla sector, we continue to professionalize in order to satisfy the more stringent requirements of our customers in terms of certification. We have undertaken to certify our vanilla plantations as organic and are entering a HACCP (Hazard Analysis Critical Control Point) certification phase to meet European and American standards.
At the plantation level, we are diversifying and encouraging our farmers' groups to do the same, by developing aromatic plant distillation activities. The SAVA Region is an agronomic paradise, its development depends on its agriculture.