65% of the wealth of the African continent is produced by women entrepreneurs according to the latest study published by the Roland Berger consulting firm at the end of September 2018. In sub-Saharan Africa, women produce 80% of the continent's agricultural commodities and represent 70% of the continent's agricultural force. 24% of African women aged 18 to 64 have started a business (compared to 17% in Latin America, 12% in North America, and 8% in Europe and Central Asia).
Despite these facts, African women still face many inequalities, particularly in terms of access to employment, remuneration and overall access to economic resources. What a contradictory situation… On International Women's Day, the blog offers you 4 portraits of African women with inspiring stories!
Patricia Zoundi Yao

Patricia, who are you?
I am Patricia Zoundi Yao, an entrepreneur at heart as I like to define it. I head three structures, operating in different sectors of activity but all targeting people at the bottom of the pyramid. In 2009, I founded Quickcash, a money transfer service for the rural world. We are now transforming ourselves into an Agency Bank considering the needs and competition observed on the ground. This will allow us to dematerialize traditional banking services in rural villages. I also created Digital Hub, which offers digital services to young and connected customers. Finally, I work since 2014 in a structure dedicated to the agricultural sector, Canaanland. Since 2014, I have also been working in an agricultural sector structure, Canaanland, which provides support for women farmers (70%) and young people (30%). We train them to sustainable farming techniques and organic farming, and we support them in the marketing phase. Within 3 years, we plan to launch 5 franchises in Côte d'Ivoire and Liberia, which will follow three key principles: 0 deforestation, 0 pesticides and 100% inclusive. Small producers in particular are systematically included in our value chain.
Why did you choose the rural sector?
I myself come from the rural world. My parents are farmers, and I worked very early in the village-based business run by my mother. I only discovered Abidjan after my baccalaureate: I found it too modern and it has been difficult to find my place. In my entrepreneurial activities, I naturally turned to what I knew best. When I started my activities, I had not heard of the concept of "social entrepreneurship". I learned about it for the first time around 2013-2014. I was doing something I loved, period. I have always been immersed in this environment, where people are actually sincere: they are not restricted, they are real.  You see the effort, the energy they give out, even if they are extremely poor.
What difficulties did you face as a woman?
Honestly, I didn't have any problems related to my status as a woman. For me, being a woman is not a problem, it's even an asset. I consider that this has given me essential skills and qualities to succeed in entrepreneurship: perseverance, the fact that you are the one who gets up a little early, who goes to bed a little late…
Of course, I faced difficulties throughout my career, but they are related to the business, not to the fact I'm a woman. Once again, I think it has rather helped me. Women can handle many things at the same time: the house, the kids. That's why rural women are my role models: they manage to work in the field, take care of the children, the kitchen, the household… I've also heard that women are more passionate and dedicated than men… I don't know if that's true, but at least I am a passionate person! What drives me is to offer opportunities to women and young people, especially in rural areas, where there is not much going on. Sometimes we feel that success models are only found in urban areas.
An advice to give to (future) women entrepreneurs?
My advice is to get started, because we will never be "fully ready". There is never a "good time". We don't know in 5 years what the new focus will be, but these days you can find training and financing opportunities fully dedicated to women. It is also important to focus on the solutions and not the problems. It's very valuable to see things in a new perspective and take the leadership. Believe me, you have the skills and resources to get started and succeed!
Catherine Krobo Edusei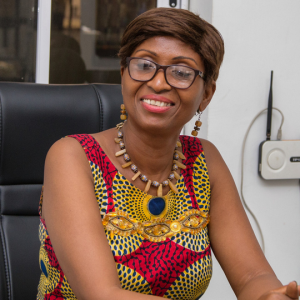 Who are you?

I am Ms. Catherine Krobo Edusei, I am 57 years old and I am a managing Director at Eden Tree Limited. Eden Tree is a leading producer and distributor of high-end fresh vegetables, fruits and herbs in Ghana.
Did you experience any difficulties because you are a woman? If yes, can you give us some examples?
It was difficult getting finance facility from the banks and venture capital funds at the beginning, for which if I had been a man it would have been possible. I also experienced difficulties working with men from certain tribes due to their outlook on what a Woman's place should be.
Who are / are your model (s)? Why?
Oprah Winfry, Mia Angelou, Yaa Asantewa, Mrs Clinton were and are very strong women not afraid to shatter the glass ceiling. It is true that a woman has to fight twice as much as a man, cause men network in their various clubs, where opportunities are scooped up. So far Women do not do too well regarding networking and sharing opportunities amongst themselves.
An advice to (future) women entrepreneurs?
They should give it their all, focus, work hard, believe in themselves and they will not regret it.